Audio Description
Translating the visual into sound
I can script, record, edit and deliver live audio description for your project, helping you reach blind and partially sighted audiences.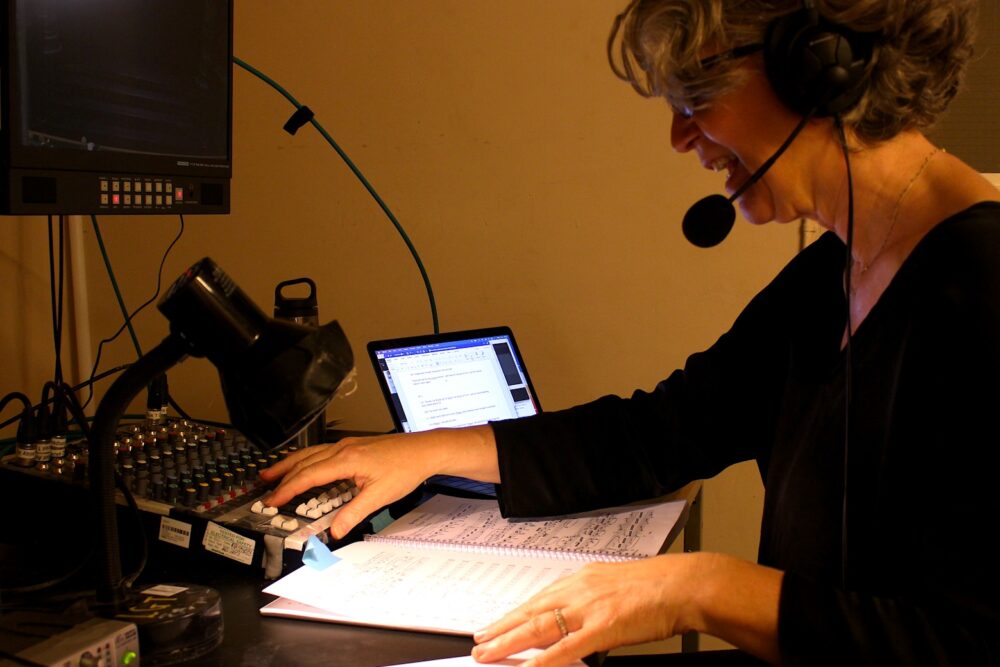 Audio samples
Skills
I specialise in audio describing opera, theatre, and musicals.  I write and record audio introductions that people can host on a website or send to customers in advance, mixing in music or audio content as required, prepare a through-description of a show, and lead touch tours on the stage before the performance.  For more information, have a look at this page where I go through each option, including rates:
Audio Description Services & Rates
I can also provide pre-recorded audio description (here's an article I wrote for the RNIB.  And I script and record audio description for films and live events (either remotely or in person), and provide audio description for conferences.
Equipment
I have a mobile radio system with two transmitters (static, or mobile for conferences / open air performances) and ten receivers (see below).  Customers can either use their own headphones, or borrow some in-ear headphones.
Feedback
Alice was brilliant to work with from start to finish, equipment was neatly labelled and packed making it really easy to share audio description with audiences. We had absolutely no problems at all with the equipment and would highly recommend working with Alice to make your live events and shows more accessible
Amy Cunningham, Creative Director, Dark Horse Theatre
Alice was a joy to work with. Proactive, professional and sensitive to the unique and delicate demands of our production – we would love to work with her again in the future.
Hallam Breen, Director, Northern Broadsides
"La Boheme was delightful! I enjoyed it all the more this time with access to the audio description. Michelle and Alice did a fantastic job of describing what was happening at pivotal points with out talking too much over the singing… truly a feat! I spoke [to two members of my group] afterwards and they both thoroughly enjoyed the AD too.  Please pass this on to the team because it really does make a huge difference!"
Sherieda Joseph, Action for Blind People
"I would say it is one million times better than the old system. The sound was much clearer and it did not cut off if I or somebody nearby moved at all….Personally, I liked the way you only said what was necessary to help understand what was happening, without interrupting the music."
Sue Hill, on pre-recorded audio description for Aida, June 2019
"Alice was a pleasure to work with when she audio described Blood Brothers for us. She was professional and prepared, providing our audience with a brilliant pre-show audio introduction, and was incredibly helpful and adaptable on the night."
Sam Longville, Theatr Clwyd, May 2022
Clients






Experience
I started working as an audio describer in 2015 after training with Di Langford from VocalEyes, co-describing operas for Opera North.  I soon branched out into theatre, pantos, children's shows and now count myself lucky enough to work on all kinds of projects, including live sporting events, and audio describing films for Hear Say Audio Description. 
For live theatre, I have been researching how to provide audio description in venues without the equipment or space for a describer, by pre-recording it and allowing the customer to control it from their own device.  This research is ongoing and I'm passionate about helping blind and partially-sighted customers have more access to arts, whatever the date or venue.
I'm a member of the Audio Describers Association, and work closely with a group of audio describers in the West Yorkshire region.