Voiceover
Voicing your words
Do you need some text recorded using a UK female, 50-something, warm, approachable-sounding voice based in Leeds/Bradford?  Then let me help.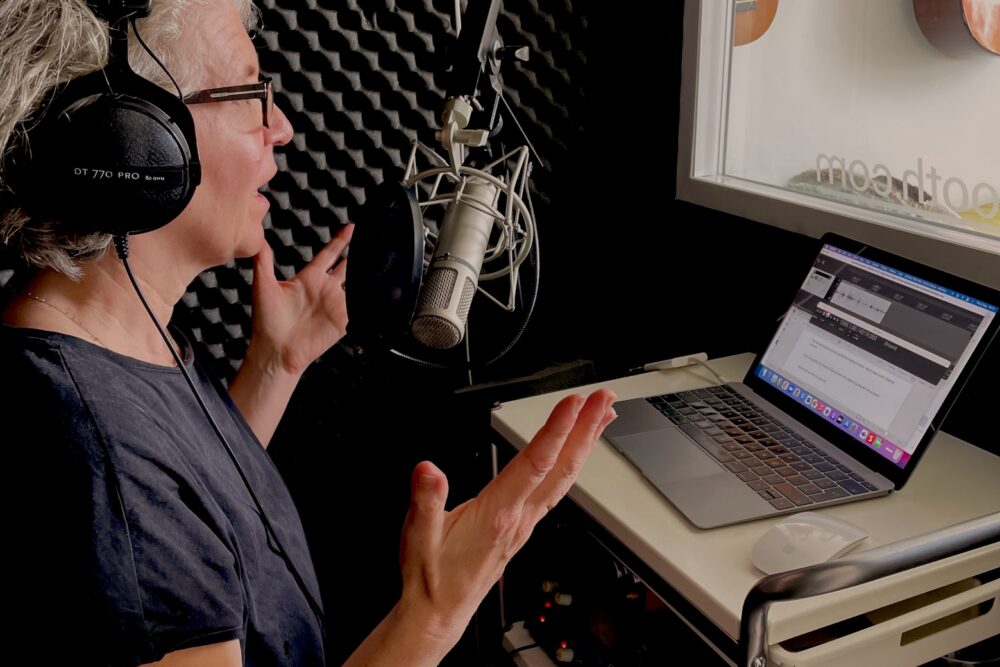 Samples
Skills
My voice has been used by over 20 of the Forbes 100 Most Valuable Brands (2019) – why not join them?  And my specialism is e-learning long-form narration, particularly for the software, medical and finance industries
I can record your script in my own professional home studio, or at your choice of studio. I can also edit the audio and send you professionally mastered .wavs or .mp3s to drop straight into your project. I often record remotely with clients over ipDTL, Cleanfeed or Skype.
I can also be booked via elearningvoices.com.  For rates, I use this rate guide, but do get in touch to see what I can do for you.
Equipment
Acoustically treated booth from Voiceoverbooth.com
Mic, Neuman TLM 193
Preamp, Focusrite 1
USB interface, Scarlett 6i6
Headphones, Beyerdynamic DT770s
Speakers, Yamaha HS5s
Editing, Reaper
Feedback
"Alice's range of voice, timing and delivery are fantastic. She grasps immediately what we want and always finds ways to add a bit of vocal magic."
Quirin Gerstenecker, Marketing Manager, Opera North
"… Alice has an incredibly versatile voice, that she can adapt to suit the context and always nails the brief. Also, she takes an interest in how it is being used and always supplies the files so our engineers can simply drop them in."
Lewis Robinson, Limewash Media
"Alice delivers consistent quality recordings on-time and is a pleasure to work with.  I look forward to working with her on future projects."
Adam Barber, Music Media Now
Clients
Experience
My first job as a voiceover artist was in 2003 when a friend in Dublin quickly needed someone with an English accent.  That led on to other work with the many e-learning companies in Dublin, expanding my home recording setup with a proper vocal booth and a good mic, and becoming a busy voiceover artist.
I'm part of the Voiceover Social network, and regularly attend their workshops and training sessions, along with occasional trips to London for The Voiceover Network training and events as well.  And I have also had some one-to-one training with Nic Redman who I highly recommend.